Damn it feels good to be a Gangsta'
"Help me, Dick! Shoot them! Shoot them!"

That's right. The Defeatocrats weren't defeated last night. In fact, they now control the Congress, pending the conclusion of two Senate races that Democratic candidates lead by comfortable margins.

Texas wasn't so lucky, however. Republicans swept up handedly. Nevertheless, I do want to pass on a message for still-Representative Michael Burgess, one of the few for whom the bell has yet to toll ...

You came to Congress Lame, and now the people bought you a Duck.
Keep your head down and watch for flying indictments. Oversight is what Congress does. You've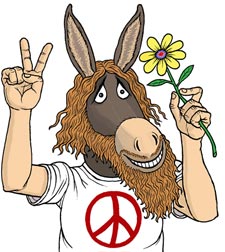 abdicated your duty and let the dirty laundry pile up. This ride is about to get a little more bumpy.

Just remember, Congressman: cling to your partisanship. Logic and reason (and your majority) have deserted you. Partisanship is all you've got. Keep on tugging that line.

In the mean time, get used to my new friend over here to the right.

He's an okay guy. Really. I mean, he might still be a Donkey, but we've made our peace for a little while. And I'm pretty sure he doesn't do acid anymore. I mean, that stuff went out in the mid-90's. This is 2006.

Wake up and smell your irrelevance.