Taking a spititual breather
For the time being, I am taking a spiritual breather from the world of political commentary.
This blog will return with fresh content soon enough. But right now, I'm at a point where I just want to focus more of my energies on reading philosophy, particularly of the Buddhist bent.
The Muckraker shall return on

January 31, 2007

.
In the mean time, I leave you with a bit of wisdom that I should heed more often; a passage written by Gautama Siddhartha, the first Buddha, titled "Do Not Grasp At Views" ...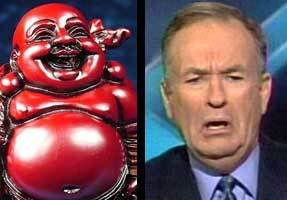 Do not grasp views in the world through either knowledge, virtuous conduct, or religious observances; likewise, avoid thinking of oneself as being either superior, inferior, or equal to others.

The wise let go of the 'self' and being free of attachments they depend not on knowledge. Nor do they dispute opinions or fix upon any view.

For those who have no wishes for either extreme of becoming or non-becoming, here or in another existence, there is no conflict with the views held by others.

They do not form the least notion on regard to views seen, heard, or thought out. How could one influence those wise ones who do not grasp at any views?
(For those of you who are interested, I am maintaining a more personal, non-political blog on an alternate MySpace page.
You can find it here
.)
Mahalo.