Presidents' Day Protest lands on CBS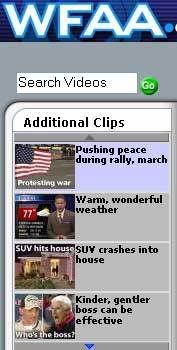 Congrats, Dallas peace people!
You landed the President's Day protest for peace right smack on the CBS 11 evening news. Gathering at the spot where Kennedy was assassinated was a great idea, and the exposure it gathered was much larger than expected.
Click the image above for video of their report.
Keep this sort of stuff up and you'll have an entire army of peace activists at your side before you even realize it.
The next demo is on the Fourth Anniversary of the start of the Iraq war. The day is Monday, March 19. We're talking about getting together around 4 p.m., and staying around until 7 or 8. Plans are not finalized yet, but for can always get more info from
DallasRally.com
.
Or, for automatically delivered updates, click here ...

Join DallasRally