This moment in Lewisville
Haz-Mat spill on I-35E and Main Street in Lewisville; 11:25 a.m., Feb. 12, 2007.
The scratch:
At 10:30 a.m. on Monday, an overturned tractor trailer hauling ethanol forced authorities to shut down Interstate 35E for several hours while HAZMAT crews cleaned up the spill.

Nearby businesses and residences were evacuated due to fire danger and concern over the toxic fumes. According to sources on the scene, there were no injuries, but authorities are still exercising caution.

Traffic was rerouted to service roads as far north as FM 407-Justin Road. Traffic backed up further than that, with cars sitting idle on the road as far away as the northern tip of Corinth.
When I got within a mile of the site, I could smell it. The odor was almost overpowering up close.
Here's the perimeter that I wasn't supposed to cross: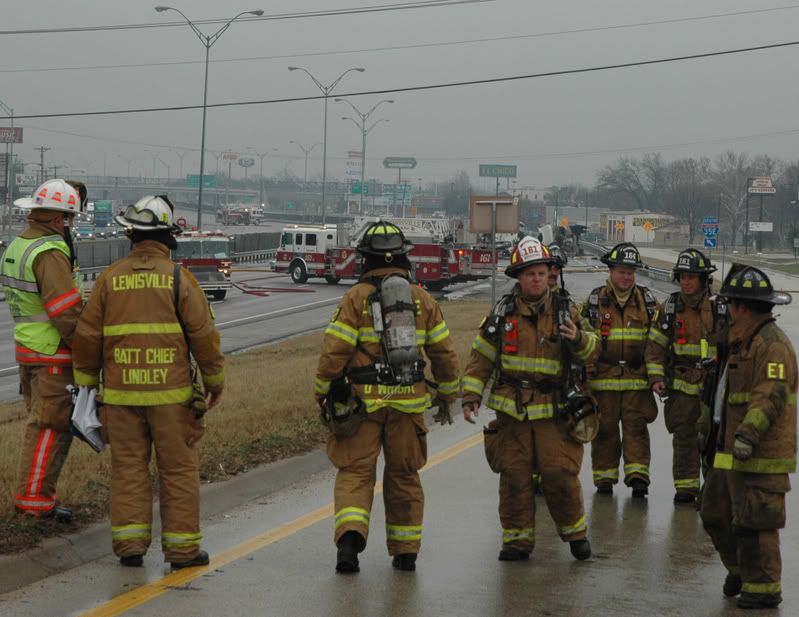 And here's as far as I made it before the firemen spotted, then subsequently, ran me off:
Please drive carefully everyone! And avoid I-35E for at least the next three hours.
Labels: local news