Barack of Nazareth
Artist David Cordero is the second entrant to the "Controversial Jesus Visage" contest this week.
His
new display at the Art Institute of Chicago
depicts Illinois Senator Barack Obama as Jesus.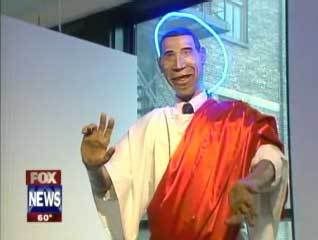 Bow before your Christ?
Personally, I like it. Very kitschy. Apt. Cuts to the core of "the great liberal hope" that is Barack Obama.
But now, I can not only vote for the man in the Democratic primary, I can worship at his feet as well.
Although, first, I've got to finish eating that
Chocolate Jesus
I'm getting for Easter. Yummm.
Labels: Obama