Protesters gather at Congressman's office
Protesters gather at Congressman's office
By Stephen Webster
Investigative Reporter
On Thursday, Oct. 5, around 2 p.m., a group of about 40 protesters gathered outside the offices of Congressman Michael C. Burgess in Lewisville, just off Interstate 35 East and Corporate Drive. They came as part of a national call to action issued by a group called "The World Can't Wait: Drive Out the Bush Regime," which is opposed to the continued war in Iraq and the adoption of torture as a legal method of interrogation. It was just one of over 200 protests nation-wide.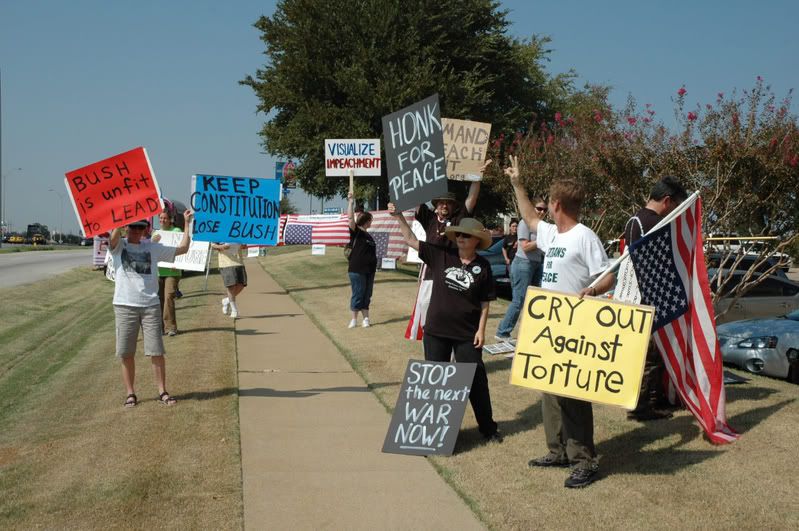 Photo by Stephen Webster
At the height of the demonstration, about 40 people could be seen holding signs at the roadside.
"I think this war is unjust," said Patricia Axelson of Flower Mound. "I think we were lied to about why we were going to Iraq. Our soldiers are dying for an unjust cause. This reminds me of Vietnam all over again."
Axelson added that she did not know much about Congressman Burgess, and that she does not affiliate herself with either major political party. "My husband was in Vietnam, though," she said. "So, I think it should be pretty obvious why we're anti-war."
Congressman Burgess' opponent, Democrat Tim Barnwell, also showed up at the protest, joining with demonstrators in expressing his concern about the war.
"I'm standing in front of Congressman Burgess' office to protest a war that is bringing out the most evil side of human nature," said Barnwell. "This is not a nation that attacks first. For a generation, we admonished Japan for attacking Pearl Harbor. Now we've done the same thing: we attacked first. That is not something we do. And to those who still believe Iraq had something to do with the attacks of Sept. 11, 2001, I ask them to listen to the words of President Bush, who has admitted numerous times that there is no connection."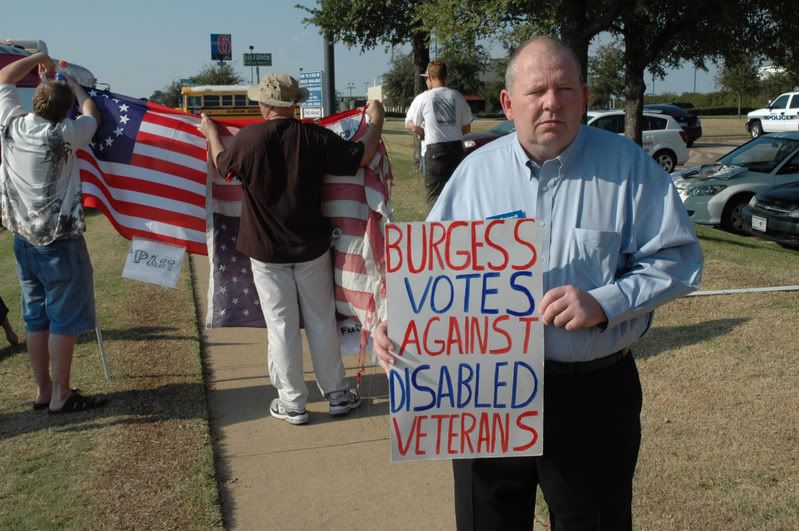 Photo by Stephen Webster
Democratic candidate for Congress Tim Barnwell, Burgess' opponent, stands in front of the Congressman's office with a somber message.

Barnwell also noted that Congressman Burgess has been given a zero percent rating by the Disabled American Veterans Association. He encouraged other demonstrators to read about his and other legislators' voting records at www.dav.org.
"When was the last time you heard of an American wanting to disguise their citizenship while traveling overseas to avoid anger from those who used to be our allies?" asked Barnwell, who held a sign that read "Burgess Votes Against Disabled Veterans."
Congressman Burgess was out of the office on a personal day, according to members of his staff. An office aid passed along the Congressman's thoughts, stating that, "We cannot walk away from Iraq. We have to take the long view."
Around 3 p.m., yard sprinklers were turned on underneath the demonstrators, much to their ire.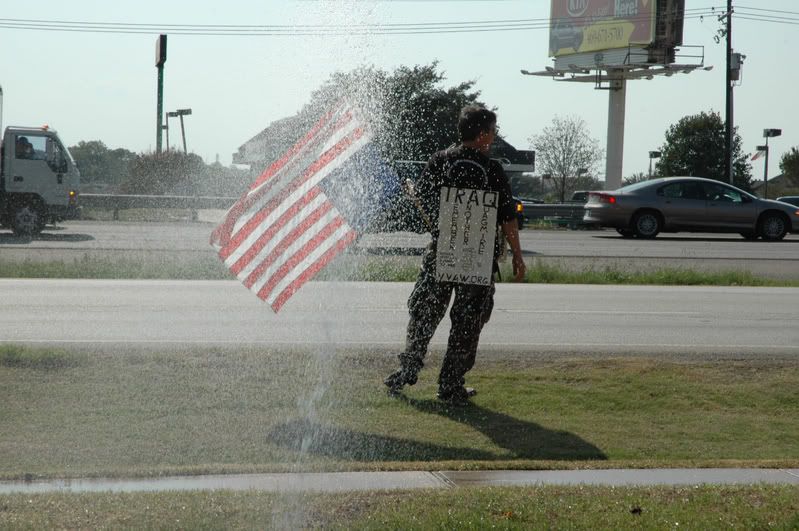 Photo by Stephen Webster
The unusually hot weather was tempered by yard sprinklers, but not all the demonstrators were greatful for it.

"This is an age-old tactic," said Dan Burnham, a Denton resident and member of Veterans for Peace and Peace Action Denton. "Shortly after the Iraq war had started there was a Bush fundraiser at the Wyndham Anatole [hotel] in downtown Dallas. There was a demonstration scheduled, and everybody was standing in the free speech zone the police had set up. About three-quarters of the way into the demonstration, they decided to turn the water sprinklers on us just as they have today."
Burnham described how he and others were arrested for stepping on sprinkler heads in an attempt to protect electronic equipment, such as cell phones and cameras, being carried by other demonstrators.
"It's just shameless," he said. "Absolutely shameless. They're trying to provoke us or just drive us off, but it isn't going to work."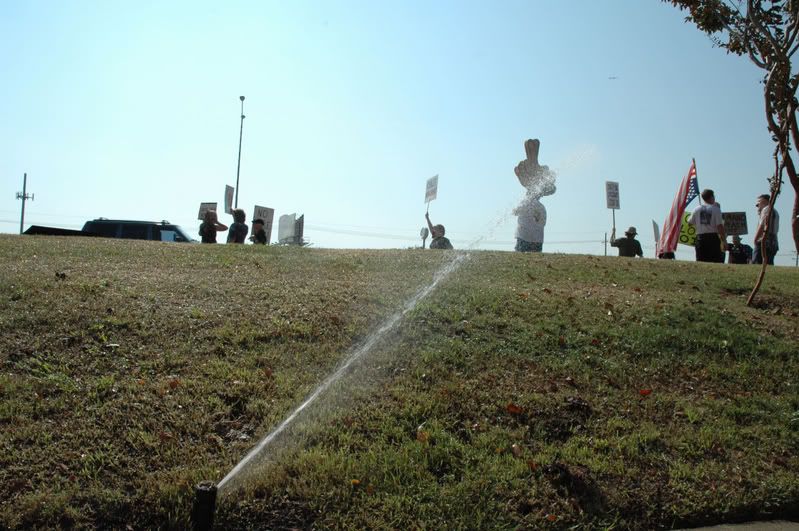 Photo by Stephen Webster
For almost an hour demonstrators withstood the spraying.

A number of signs were set up along the service road, beseeching passers-by to "honk for peace." Hundreds of motorists did so, causing a massive slowdown in traffic by 4 p.m. Other drivers made obscene gestures and screamed curse words. At approximately 4:15 p.m., a black Ford sport utility vehicle came dangerously close to hitting a woman and a little girl who were standing on the roadside grass. As they screamed and jumped back, the SUV sped away, kicking up dirt alongside the road and blasting an unusually loud custom horn.
"The idea of the United States having a debate and changing the laws on what defines torture is sickening," said Barnwell. "Everybody here knows what torture is. Everybody. Even those in Congress who voted for this law. It is offensive to me and to all Americans. It puts all of our troops at increased risk, all for the sake of a few men running this country, many of whom never actually saw combat."
Photo by Stephen Webster
Many of those who attended the protest refused to identify themselves with a political party, claiming that Democrats simply have not been standing up to Republicans.
Barnwell added that he was called up for the draft during the Vietnam War, but was denied by Army doctors due to back problems. "But I didn't back away from it like so many others did," said Barnwell. "I stepped up to the plate. I was ready to serve my country."

"We're here to help people wake up," said Tim Martin, a resident of Allen. "It is time for people to sit back and take a look at what is going on around them. This is just one way we could help spread the word. I believe we entered this war illegally, and now is the time to bring our troops home."
-------------------
Additional photos ...