The NeoCon Plan for Global Dominance
They, being, the ACTUAL Washington D.C. NeoCons, completely laid bare their plans last night at a
Commentary Magazine
dinner.
Commentary
is a venue of nothing but NeoConservative politics. I've not seen it, but judging from their feature article this issue and what was discussed at their macabre little talk, I'd imagine the cover looks something like this ...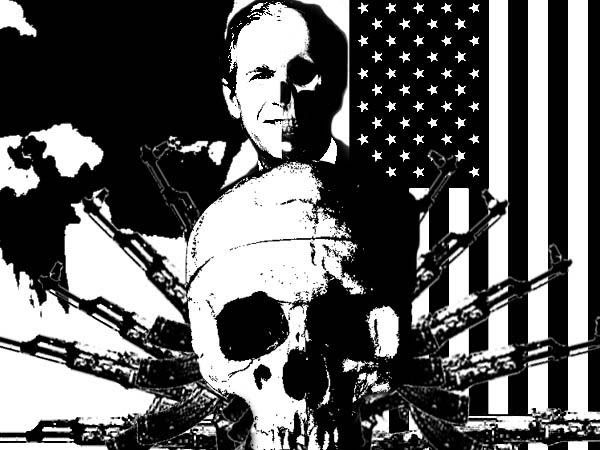 Commentary Magazine
just published an article by a Mr. Norman Podhoretz, entitled
"The Case for Bombing Iran"
...
So if you couldn't see it clearly enough, there is a core group in D.C. that wants to lurch this war issue forward. It gets better, though.
What they laid out last night is far more frightening and Caligula-esque.
They plan "regime change" in dozens of countries
.
All over the world.
And they spoke it,
publicly, last night
...
The New York Sun
quoted former U.N. ambassador John Bolton, speaking about "regime change" as a necessary "tool" in the "toolbox".
(I challenge you to read the following quotes aloud to yourself and consider how sick it makes you feel.)
Then, moving briskly to present-day examples,

Mr. Bolton backed regime change in North Korea and Iran

. As for Cuba, he said that "actuarial tables will take care" of it, referring to the aging Castro.

Sudan, he said, was not a sufficient threat to American interests to justify a policy of regime change

. Burma, he noted, recently was reported to be entering a contract with Russia for a research nuclear reactor, but "I don't think that's a regime that warrants regime change." Venezuela, he said last year puchased 100,000 AK-47s.

"Not yet but maybe" was Mr. Bolton's position on regime change in Venezuela

. Syria is the "hardest" case, Mr. Bolton said, seeming to think that what came after Assad there might be worse. All in all, an interesting evening.
Sick. Sick. SICK!
This confirms our worst fears. They now say, very openly and publicly, what they intend to do to the rest of the world. They wish us to be at war for many, many years to come. I fear what this could mean.
I'd say we citizens should come up with a new color-coded alert system. How's about this, for one?
We're at Red Alert.
Labels: Fascism