So THAT'S why the D.C. hooker story got killed
Ever since Randy "Duke" Cunningham went down for all KINDS of impropriety and criminal activity, a nasty little scandal has been growing and growing. Mr. Cunningham, it was discovered, loved him some hookers.
So when "Miz Julia" - a.k.a. Debraoh Palfrey,
a Washington D.C. "madame" who ran the city's largest escort service
- was arrested by the Feds, she decided to go public with her client records.
Last week on Friday, ABC News' 20/20 was supposed to name names. It had been hyped for over a week as a huge story ... And with over 10,000 names and phone numbers on the list, it was bound to be, just statistically speaking.
Officials, lobbyists, corporate people, high ranking politicians and their appointed lapdogs ... the whole array of sliminess in D.C. was about to come pouring out.
People from both parties are involved
; no doubt about it.
Remember this? I'm willing to bet you don't.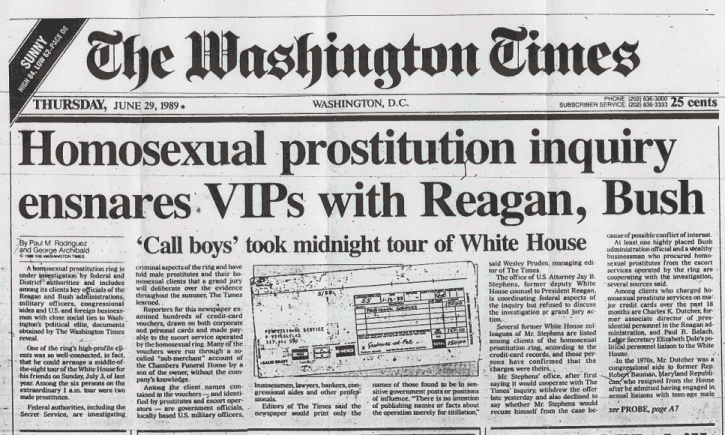 The story went almost nowhere after that first break. Heavy, heavy pressure was applied, and it just faded out of memory.
So when ABC, owned by Disney, spiked the new prostitution story at the last minute, eyebrows were raised. No names came out. There was almost nothing in the broadcast. Kinda reminds me of the time Michael Eisner ordered ABC News to kill a story about how Disney World hired pedophiles as park workers ... Kids were assaulted, but the news didn't come out for an awfully long time.
So, why indeed was the ABC report on the D.C. prostitution ring killed? The director of the U.S. Agency for International Development, Randall Tobias - appointed personally by Condi Rice - already
resigned
. Now the State Department has
ordered his mere existence to be wiped from memory
.
But certainly that could not be the reason for ABC News' freakout over their news division's reporting. There must have been someone with more sway.
Rumor has it that the biggest DICK in town, Vee'p Cheney himself, is on the list.
The
Wayne Madsen Report
(scroll down for story) reports that individuals on the list include ...
a senior official at the World Bank, the head of an Air Force Intelligence squadron,

the CEO of a major corporation

, a White House economist (later said to be an official at the Office of Thrift Supervision across the street from the White House), and the head of a neo-con think tank
The Madsen Report has learned
the CEO of a major corporation is today a FORMER CEO, now an "extremely high ranking official in the Bush administration."
Madsen further reports ...
[the individual] reportedly engaged the services of Palfrey's escort firm while he was the CEO and maintained a residence off Chain Bridge Road in the Ballantrae neighborhood in McLean, Virginia

, a few blocks from the headquarters of the CIA

. A number of phone calls on Palfrey' s phone bills are said to have originated from the Ballantrae area of McLean during the time of the CEO's liaison with the Pamela Martin & Associates escort.
That DICK, Mr. Cheney, um ... Sorta matches all those uncovered facts
To A TEE
. Thus the "rumor"-ish talk going around. I give this a couple more weeks before it breaks. Someone around D.C. is bound to talk. We journalists are like that. We tend to talk.
But really, when you think about it, how could this negatively affect DICK?
I mean, the man
dodged the Vietnam draft
,
lied like crazy
(and still is lying) to start an
illegal war
(and to keep it going, Mr.
"last throes"
), shot his lawyer
in the FACE
, told Senator Lehey to
"go fuck yourself"
on the FLOOR of the Senate no less, and lobbied
against the right of his OWN DAUGHTER
to get married or adopt a child.
Do you really think this sub-human mongoloid going off and
plunging
a hooker or five will make any difference to his "career"?
Guys. C'mon. Seriously. Sex scandals are so immaterial these days.
Its not like this is the Clinton Administration or anything. Sheesh. But there is one common thread.
IMPEACHMENT


IS


COMING.
And it can't get here soon enough.
Mahalo.
Labels: lies